P.E.M. Specialized Expertise
P.E.M. specializes in consultation, design, manufacturing and delivery of exceptional feed screw products. Our expertise is focused on meeting the needs of the plastics, rubber and food processing industries who utilize injection, single screw extrusion and blow molding machines.
P.E.M. manufactures a wide range of components in addition to feed screws, including: tie bars, screw tips, valves, end caps, nozzles; new or replacement barrels.
Additional services include: barrel honing and nitriding, rebuilding, hard chrome plating, repairs, modifications and polishing.
Precision outside dimension grinding
for final critical tolerance
CNC turning of a ball check value designed by P.E.M.
Manufacturers of Precision-Machined Feed Screws and Components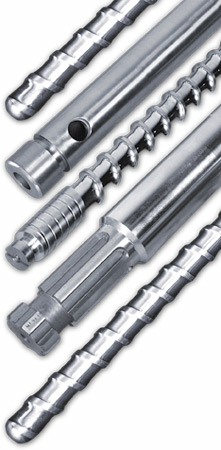 • Feed Screws
• Screw Tips
• Bi-metallic Barrels
• Nitrided Barrels
• End Caps
• Tie Bars
• Nozzles
• Barrel Honing
• Rebuilding and Refurbishing
• Hard Chrome Plating
• Repairs
• Modifications
• Polishing
• Flame Hardening
• Heat Treating
• Hardfacing